Google says students should take up jobs based on interests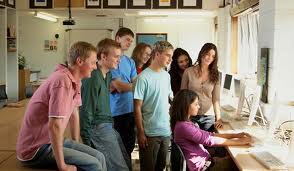 Date :
JAIPUR: Students should pursue jobs as per their interests and set a goal for their lives, a senior official at search engine giant Google said today.

Speaking to students of Rajasthan University, Google Slovakia Country Manager Rasto Kulich motivated and guided them to set and achieve their goals and gave tips on better learning.

Kulich emphasised on identifying one`s interests, values and skills and asked them to pursue a career in the field of own interest.

"Interest is the most important thing when you choose you job. Besides, setting a goal and writing it on paper helps one becoming more committed towards the goal," he said.

He also asked students to not read very much in order to be able to implement what has been learnt from the books.

"Read enough, not very much. It is important to implement what you have learnt," he said, while laying emphasis on finding a mentor for learning much faster.

After giving a presentation, he also interacted with the students and gave them tips for success while guiding them for staying away from overnight success theory.

University`s Vice Chancellor Madhukar Gupta, Ajmer Divisional Commissioner Kiran Soni Gupta and faculty members were present on the occasion.