Global employer hiring up 4% for class of 2013 B-school graduates: Survey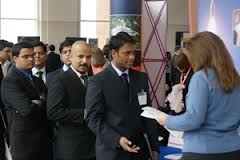 Date :
NEW DELHI: The job market improves for graduate business school degree holders, as more employers plan to hire MBAs and specialised business masters talent than last year, according to the 2013 Corporate Recruiters Survey by Graduate Management Admission Council (GMAC).

The survey was issued by GMAC and its survey partners, the European Foundation for Management Development and the MBA Career Services Council. GMAC is the worldwide association of business schools which administers the GMAT exam.

The 2013 Corporate Recruiters Survey of more than 900 employers around the world finds 75% of employers plan to hire MBAs, up from 71% that hired MBAs in 2012.The average number of new MBAs employers worldwide expect to hire is 14.6, up from the 11.4 they hired last year. The proportion of employers planning to hire other types of business school graduates is up from last year for masters in management, masters of accounting, masters of finance, as well as other specialised business masters.

A companion student exit survey, the 2013 Global Management Education Graduate Survey, shows that similar to last year, six in ten business school graduates already had job offers in February or March.

"Whether employers are aiming for more productivity or growth, the world`s graduate business schools are providing the talent for them. B-school graduates are finding that their education is providing a clear and valued competitive edge in the job market," Dave Wilson, president and CEO of GMAC said in a statement.