10 lakh new jobs expected in 2013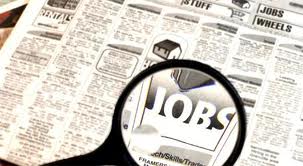 Date :
Job seekers can look forward to a prosperous new year with more than 10 lakh new jobs expected across various sectors including FMCG and retail, says a survey.
Coming against the backdrop of uncertain economic conditions, the projected number of new jobs in 2013 is way higher than the estimated 7 lakh employment opportunities created this year, according to the MyHiringClub.com survey conducted on over 4,450 firms across 12 industry sectors.
All these employment opportunities have been projected only for the organised sector, it added.Besides FMCG and retail, more job opportunities are expected in healthcare, IT and hospitality sectors.
"The new year would be good for job seekers with expected 1 million plus jobs in the country. 2012 was not good either for job seekers or for employers due to several issues, including economic conditions," MyHiringClub.com CEO Rajesh Kumar said.
Additionally, banking space could also see a fair amount of recruitment activities, especially with the Parliament giving its go-ahead for a legislation that allows for opening of new banks by private players.Riding on the back of FDI approval, retail sector is also expected to see large-scale hirings after the entry of more foreign players. Psyche Panacea Management CEO Vikas Vats expects the hiring activities to increase by 15-20 per cent in 2013, from the levels seen in 2012.
"FMCG, retail and hospitality are going to be the biggest job creators in 2013. If all goes on expected tracks, then India is going to create a good number of new job across all sectors," Vats said.
Echoing a similar view, Sat-n-Merc Manpower Consultant Director Prachi Kumari said, 2013 is expected to be healthy in terms of job creation and the pace of new employment would be better than 2012.
"In 2012, economic downturn and other global crises have badly affected the Indian job market. 2013 is coming with a lot of promise and we are expecting a sharp decline in unemployment ratio," she added.
Recruitment tendering platform MyHiringClub.com survey showed that FMCG would lead the chart and is expected to generate 1.76 lakh new jobs, followed by healthcare (1.72 lakh), IT and ITeS (1.69 lakh), hospitality (1.06 lakh) and retail (1.02 lakh).