More than 50% of Indian professionals shift industry after their first job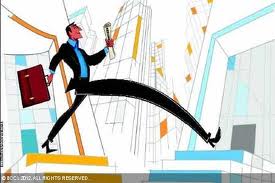 Date :
CHENNAI: Employers beware. Indian professionals expect more from a job than just a hefty salary. A recent pan-India survey by professional networking site ApnaCircle.com found that more than half of all Indian professionals have shifted industry after their first job.

Based on feedback from 3 million users logged onto their site, the organization found that "industry switches are on a high, and that professionals prefer job satisfaction, growth and passion over money". The youth of the country are willing to take risks in their career to reinvent themselves.

The survey found three major reasons for the switch: 34% complained of a lack of growth and opportunity in their current profiles, while 33% of professionals had either lost interest or realized their own potential, and 23% switched industry for monetary reasons.

The survey also looked at the choice of freshers, and found that IT or telecom continues to top the list with 18% considering it as the preferred industry, followed by banking or finance at 15% and marketing or advertising or media at 14%. Risk appetite, numbers suggest, has increased, with 16% of students wishing to be self-employed or wanting to become young age entrepreneurs.